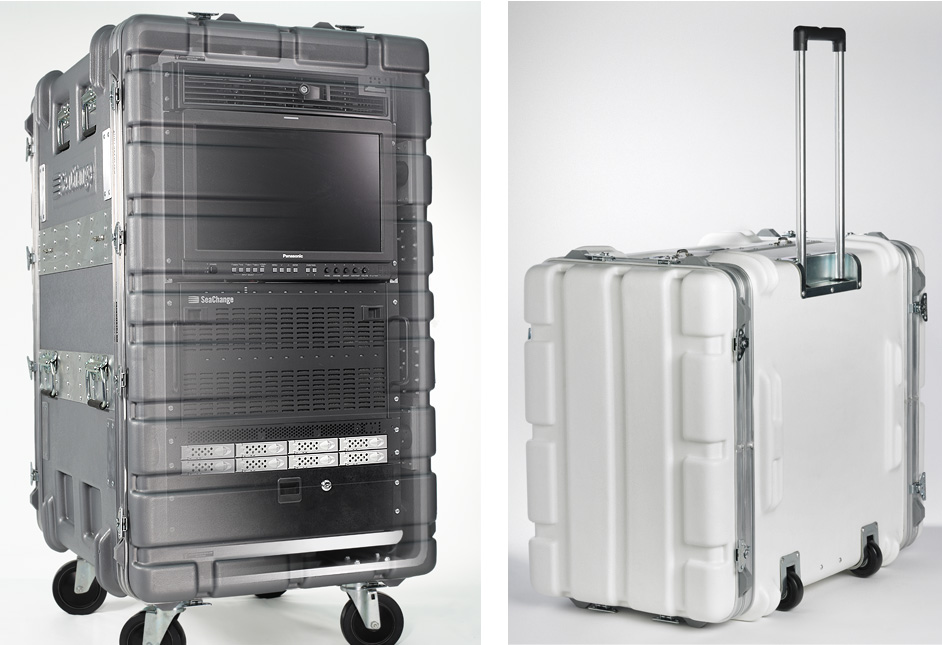 Industry Leading Protection
When you transport equipment, your sensitive gear is subjected to drops, falls and harmful repetitive vibration. That's where the state-of-the-art, shock mounted Rack-Pack comes in. All Thermodyne Racks come standard with military-proven shock isolation mounts to mitigate and eliminate these threats. Custom-fabricated to cradle your unique equipment, Thermodyne's shock-isolated frame is the only ruggedized custom rack in the universe built from aircraft-quality aluminum. This incomparable EIA-RETMA inner-frame is available in sizes from 1U to more than 35U tall and custom depths from 20" to 36+" deep.


Save Time & Money with Pre-Installation

With Thermodyne's unique Rack-Pack cases, you can easily setup your gear onsite in just minutes—not hours. Thermodyne's RackMount cases let you setup a configuration before you ship. Once onsite, simply remove the forward and rear lids and plug the Rack-Mount into a power source. Avoid the hassles of lengthy set-ups, configuring or rewiring. Simplify your life with a ready-to-go Thermodyne Rack-Mount.

Comprehensive Shock Isolation
All Thermodyne frames feature an independent shock-mounting system without rigid connections. Our elastomeric mounts act as buffers to provide sway space and eliminate shock. What does that mean for you? It means when an overly aggressive bag handler launches your Rack-Pack across the tarmac, the rugged military-grade outer shell flexes to help dissipate shock upon impact. Inside, the isolation mounts flex prevent damaging shock from traveling into the protective frame—keeping your sensitive gear safe, sound and unscathed.

Shock Isolation Mounts

Thermodyne mounts are both U.S. Military and independent laboratory-tested to ensure they have the precise level of flex to protect your gear. When you rely on mounts that are too rigid or too pliable, you might as well have no mounts at all. This is why we custom-rate your mounts at no additional cost. While other manufacturers use low-quality imported mounts with generic ratings, Thermodyne only offers rigorously tested and certified U.S.-manufactured mounts custom-rated for your

specific jobs. Our engineers select the proper mount to guarantee your equipment arrives in the same condition it was sent.

Tailor-Made Mounting Systems

Because each of our cases is custom manufactured, this allows Thermodyne to choose the right configuration for your gear. For exceptionally light equipment, Thermodyne's unique corner-mounted Quadraflex mounts protect from multi-directional drops and hits. Available in the standard Quad & Dual-Quad configurations, the Quadraflex is available in 8 and 16-shock mount configurations. For heavier gear, Thermodyne's rugged side-mount configurations can accommodate payload weights in excess of 1500 pounds. Beyond these options, additional mounting configurations are still available. Options like shock mitigating cable-type mounts and low-profile Compact-Rack shock isolation mounts. You've got options and we can quickly determine which are best for you. Give us a call, let us help.

Call 1-909-923-9945 now to get started!



Supremely Secure Stacking Kits
Thermodyne also offers optional stacking kits, which allow you to divide your gear into smaller, more mobile sizes. Once stacked and strapped together, just plug in your gear and you are ready to work. Our distinctive stacking kits features nesting feet, manual or ratcheting straps, interlocking lugs and low-profile footman loops.

Fully Customizable
From custom colors for quick identification to tailored sizes and options, every single aspect of a Thermodyne Rack-Mount case can be adapted to meet your needs. Customizing your Thermodyne RackMount case is easy. Give us a call to discuss details, specifics and get a free, no obligation quote. It only takes a couple minutes.

HD Removable Wheels For Easy Transport
When you load them up with equipment, Rack-Mount cases can get extremely heavy. But no matter how much weight you mount, Thermodyne makes sure that you can roll your gear from point A to point B with ease. We offer large diameter wheels for rolling over cables, cords and other obstacles.


Call Now to find out more! 1-909-923-9945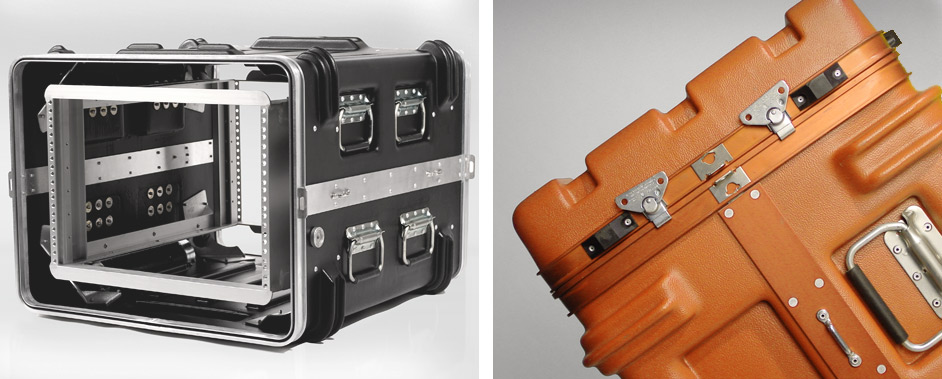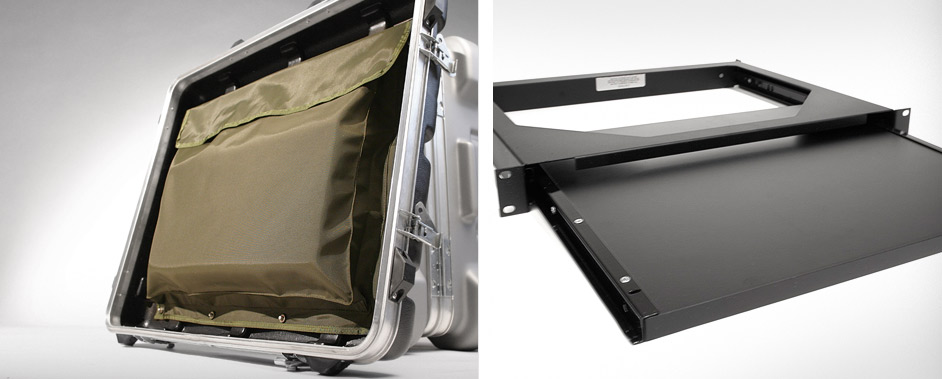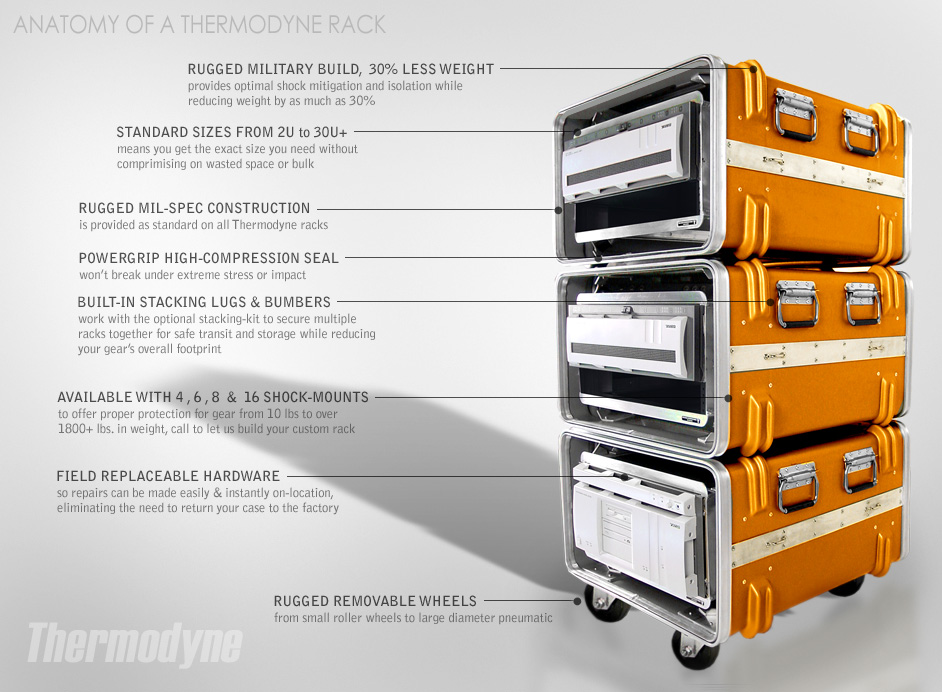 The ONE and ONLY Choice
For more than 50 years, Thermodyne has been the leader in rack-mount shipping cases. Just ask every branch of the U.S. Military—not to mention major corporations like Boeing, Raytheon, Motorola, Lockheed-Martin, Northrop, Harris, General Dynamics, Hewlett Packard and L3 Communications. For years, all of these institutions have relied on Thermodyne Racks to protect and safely transport their sensitive electronics. Military certified and ISO compliant, Thermodyne Racks are the one and only choice for professional and military applications.

Better Protection, Less Weight

Rugged Thermodyne Rack-Mounts offer the best of both worlds: heavy-duty protection in a lightweight package. Constructed of modern, aerospace materials, our rack-mounts are engineered for ultimate shock protection but still weigh 20 to 30% less than comparable racks. Thermodyne Racks are built with integrated ribbing for added strength, multi-gauge shells designed to place that

strength where you need it most and aircraft quality aluminum inserts for added structure. While all these features add up to superior protection, they also help reduce the overall weight and bulk. In the end you get a RackMount shipping case that protects better, but weighs less.

Made in the U.S.A.
Each and every Thermodyne Rack is manufactured in our ISO certified Southern California manufacturing plant. We custom-craft all extrusions and aluminum parts in our in-house machine shop using 100% domestic materials. Even Thermodyne's rugged outer shells are formed in our California factory from locally produced materials. For more than 50 years, Thermodyne has been dedicated to keeping jobs in America while keeping tight control over quality standard and lead times.

Unsurpassed Protection Since 1958

Since 1958, Thermodyne has manufactured rugged products that are abused at every single stage of the

shipping process. Our products are thrown off docks, rammed with forklifts, tossed from conveyer belts and rolled off carts. You'd think we'd take offense—but it doesn't bother us in the slightest. That's because every time our cases take abuse, that's one less time your gear does. Plus, our products offer phenomenal endurance. When a customer sends a 20 to 30-year-old Thermodyne case in for repair, it usually looks like it's seen better days. But we simply replace some of the banged up parts and send the case back out for another 20 to 30 years of abuse. None of our competitors can say this—because nobody builds a better shipping case than Thermodyne.

No Minimums

Whether you need a single custom rack or a hundred of them, Thermodyne offers complete size customization with absolutely no minimums. We build each RackMount with a custom sized EIA RETMA compliant inner-frame and custom sized body to your needed dimensions. That's something you simply won't find with anyone else.

Call us today! 909-923-9945
Thermodyne RackMount Case Features
* 19" EIA Frame Width, RETMA Hole Pattern
* 20" to 35"+ Frame Depths (Deeper Frames Available)
* Standard MIL-SPEC Construction
* Available From 2U to 34U (Larger Units Available)
* Standard Spring-Loaded Latches & Handles
* Standard PowerGrip Valances
* Available 4 / 8 / 12 / 16 Shock Mount Configurations

Popular Thermodyne RackMount Customizations:
* Factory Customized Frame Depths


* Custom Weight-Rated Shock Mounts

* Circular & Square Hole Patterns
* Custom Metalwork & Fabrication
* Custom Lid-Mounted Bags & Inner-Lids
* Custom Manufacturing to Specific Weight Limits

* Custom Cooling Fan & Filter Systems


Compliances:
* MIL-SPEC (Standard)
* ROHS Compliant Materials (Standard)
* MIL-SPEC 810G Enviromental Sealing (Optional)
* ATA Airline Compliant
* UPS & FedEx Compliant (Larger Sizes Freight)

Call Now to find out more! 909-923-9945

You may also like...