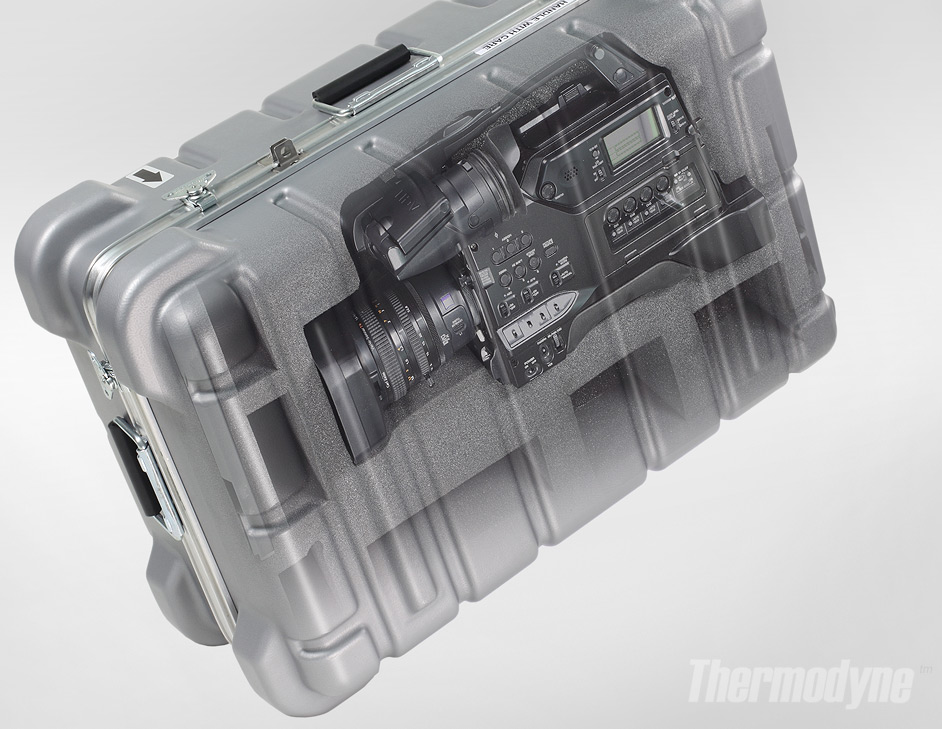 Superior Crash Protection


Thermodyne's ShokStop case is built tough with a rugged military-grade, shock absorbent polyethylene shell that reduces impact and steers shock away from your delicate equipment. While injection molded cases are rigid and transfer much of this impact internally, the ShokStop's outer shell flexes to absorb and dissipate harmful impact, sparing your gear from the tortures of travel. So even when the baggage handler tosses your case across the tarmac, the resilient ShokStop shipping case will stand strong under pressure and shield your equipment.

Hardcore Vibration Protection
Drops, bumps and crashes aren't the only threats to your gear. When you ship your equipment cross-country on a delivery truck time after time, the constant barrage of low-level vibration can wreak havoc on your delicate electronics. That's why we've put our ShokStop cases to the test to ensure the ultimate protection. Not only

have our cases been independently tested, but they're also certified to meet military and industrial vibration and loose cargo requirements. Through the use of custom engineered foam designs, both reliable open and closed-cell inserts and multiple density materials, ShokStop cases stop harmful vibrations in their tracks. If you need the ultimate in protection, you've found it. 

600+ Sizes Equals a Better Fit
With more than 600 ShokStop case sizes available, you'll never be forced to shoe-horn your equipment into a "standard" size case. Our tooling size inventory ranges in size from only eight inches to over twenty feet in length. Plus, all of our cases are precision-made in the U.S. and constructed from only American manufactured materials. Still can't find the right fit? No problem. Thanks to the flexibility of our manufacturing and trimming process, we can create a customized size for you with no minimum quantity. Just let us know what you are packing and we'll customize the size of your ShokStop for you.

Make a Splash with Waterproofing
Want to waterproof your case? No problem! Thermodyne offers the option for full environmental sealing to MIL-SPEC on any ShokStop case—the same heavy-duty sealing we provide to the U.S. Military. Even if you're not planning on invading a small country, your gear will be treated with the same importance. While our standard PowerGrip extrusions with unique tongue and groove gasket-seal construction is sufficient for normal day-to-day environments, our optional MIL-SPEC 810 sealing is ideal if your gear may be exposed to the elements for extended periods. Shielding your gear with a safe dry-zone, environmental sealing also keeps harmful contaminants out and regulates internal pressures through the use of a pressure relief valve.




Call Now to find out more! 1-909-923-9945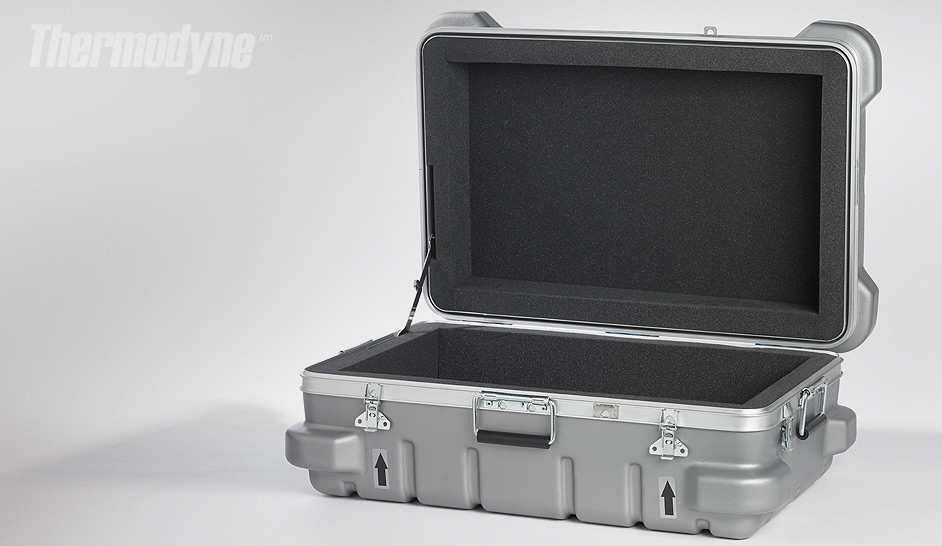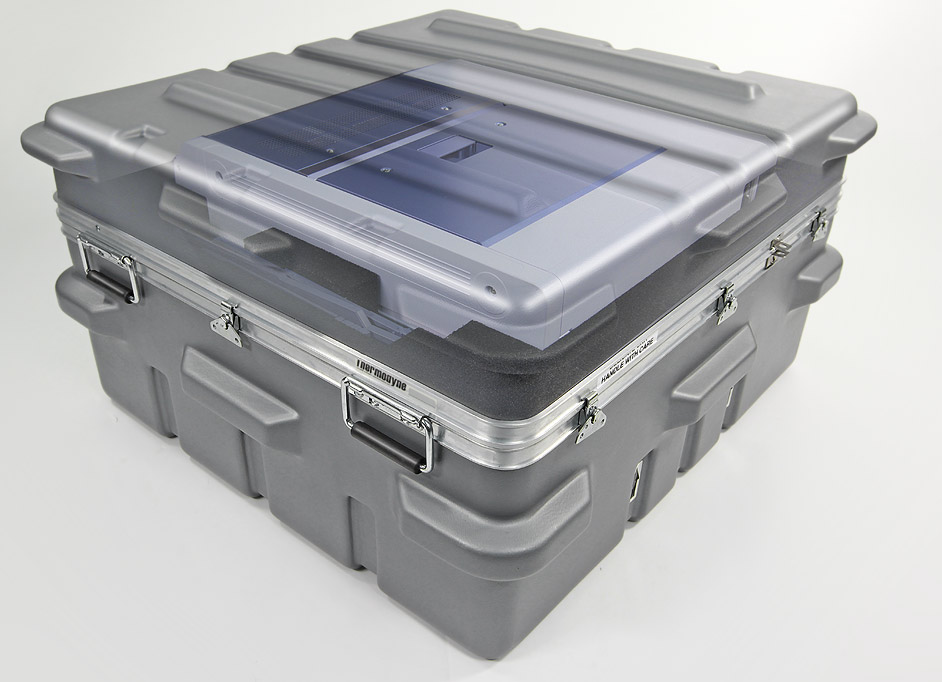 Factory Custom Foam Interiors
To ensure proper protection for your sensitive gear, Thermodyne offers more than 20 grades of specialty foam for custom or stock applications. Unlike some of our competitors, Thermodyne only uses military-grade foams—providing better protection, extended life and the ultimate peace of mind. Our engineering department hand-picks the foam type based upon the unique characteristics of your equipment and its intended environment. Then, they custom-cut the foam to gently cradle and protect your delicate electronics. Our expert engineers can also integrate customized accessory compartments into the foam design at no additional cost. To ensure speedy delivery on each custom case order, we warehouse our foam in large quantities and control every step of foam design, cutting, assembly and installation in-house. Plus, we offer factory custom-cut foam with no minimums—which means you'll receive professional-grade protection whether you're ordering one or 100 cases.

A Full Spectrum of Color Options
Need to match your case to your company's signature colors? Want to ensure your gear is easy to spot on the luggage carousel? If the standard Thermodyne Silver doesn't do it for you, no worries. We offer more than 30 eye-pleasing colors, ranging from conservative to high impact. If for some reason you can't settle on one of our 30+ shades, Thermodyne also offers custom Pantone color matching with low minimum quantities.

Custom Fabrication
We realize that sometimes foam alone won't do the trick. Thanks to our in-house machine shop and fabrication department, we can design and create exactly what you need for one-off or low production runs—whether it's internal shock-isolated cages, inner lids, electrical panels, waterproof connectors, specially tailored extrusions or modified plastic parts. Our top-notch team of engineers, machinists and fabricators can work their magic for you at minimal

expense with little lead time. To top it off, we provide upfront, honest pricing before you place your order. And because every step is ISO quality certified, you can take comfort knowing we'll get the job done right. Choose Thermodyne for your custom shipping container project and leave the hard part and details to us.



Unshakable Theft Protection
When you're traveling with expensive gear, there's always the threat of theft and tampering. ShokStop custom cases put your equipment on lockdown with our robust security kits. With every ShokStop case, Thermodyne offers a standard hardened steel locking kit, a low-profile locking hasp, a TSA approved combination kit or multiple padlocking hasps. Each of these options keep your gear safe and sound. Plus, all ShokStop locking hasps allow for the use of TSA approved locks, ensuring you can securely lock your case for airline travel.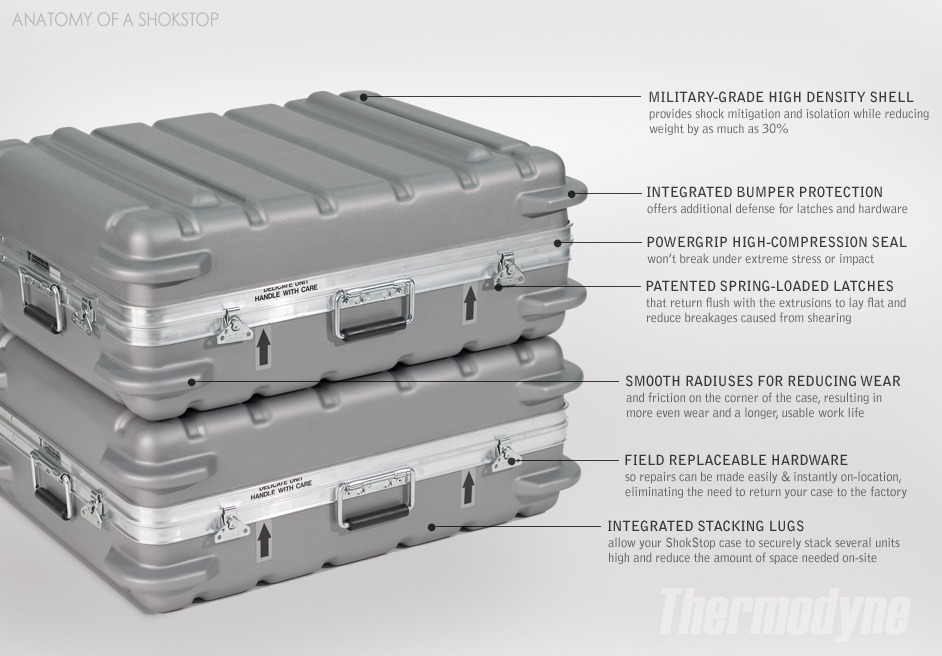 Ready to protect your equipment with the toughest case on the market? Here are a few things to consider, now that you're ready to move ahead:
1.) What type of gear do you need to pack?
Think about what is essential to do your job. Don't be shy—include everything you think you might need. If you're purchasing a travel case for electronic gear, be sure to
ask for extra cavities for spare battery packs or blank media. Also, you may want to consider an open cavity for miscellaneous accessories. When you specify this at the
time of order, it will allow our designers to include the maximum cavity size without expanding the size of the case. Not only will this give you room to grow; it doesn't add
any additional cost! Don't worry about designing a layout—our designers will take care of all the details and custom-create a protective, functional and user-friendly case
for you.
2.) How will your case be used?
Will your case be shipped, checked-in, carried-on? Do you plan on rolling it through an airport or frequently shipping it through UPS? Just let us know how you plan on
using your Thermodyne ShokStop case, and we'll handle the rest. Simply give us a call—after a quick phone conversation with our experienced sales staff, we'll have
all the details we need to build your perfect customized ShokStop transit case.
3.) Do you need your case ASAP?
We can work with you on any schedule. Just let us know when your ShokStop case needs to be delivered, and we'll get it there on time. While standard ShokStop
production time is about a week, Thermodyne can manufacture custom cases in as little as 24 to 48 hours when necessary. Plus, we can ship stock products the
same afternoon. So what are you waiting for? Give us a call! 909-923-9945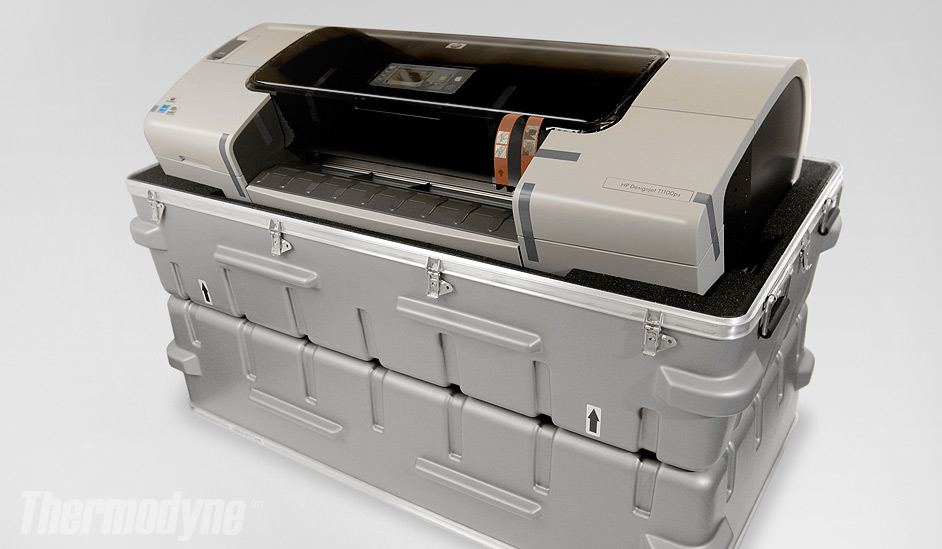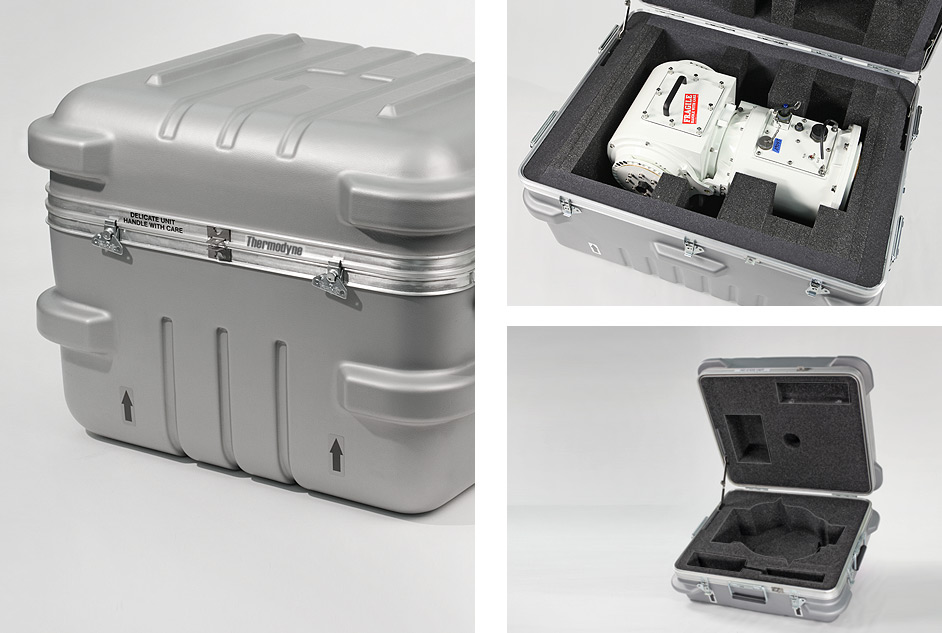 ShokStop Case Features
* Rugged Integrated Protective Bumpers
* Standard Military-Grade Hardware
* Standard Gasket Seal
* Standard Field-Replacable Trim
* Standard Spring-Loaded Latches & Handles
* Standard PowerGrip Valances
* Hundreds of Standard ShokStop Sizes

Popular ShokStop Customizations:
* Factory Customized Foam Interiors
* Custom Colors & Logos
* Custom Metalwork & Mount Fabrication
* Custom Lid-Mounted Bags & Inner-Lids
* Custom Manufacturing to Specific Weight Limits

* Custom Labels & Stenciling
* Custom OEM Packaging & Blind Shipping

Compliance:
* MIL-SPEC Materials (Standard)
* ROHS Compliant Materials (Standard)
* MIL-SPEC 810G Environmental Sealing (Available)
* ATA Airline & TSA Compliant
* UPS & Fed Ex Compliant & Shippable

Call Now to find out more! 909-923-9945

You may also like...