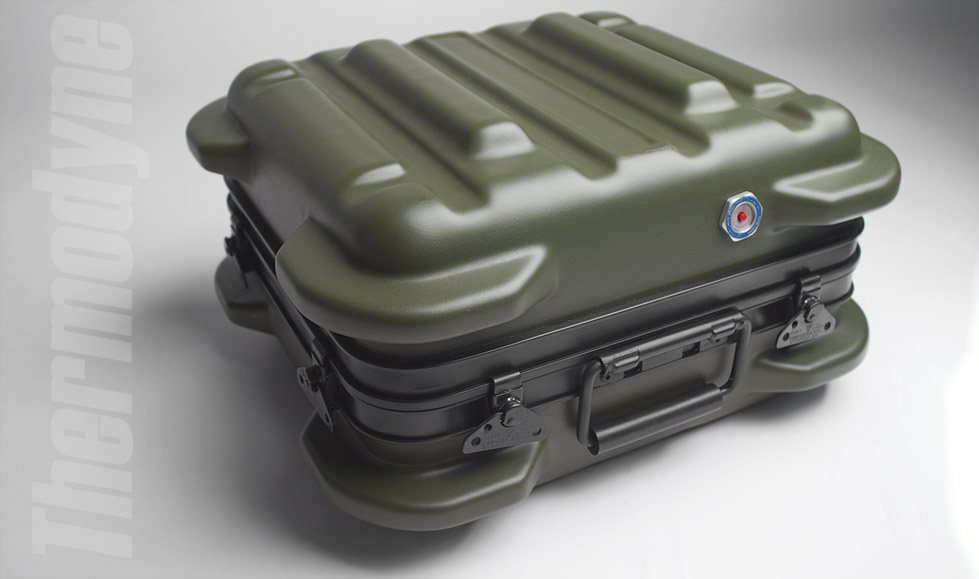 The Military's Case of Choice Since 1958
Every branch of the U.S. Military relies on Thermodyne to protect their sensitive gear. Everything from delicate radiation test stations, guided missiles, Humvee drive train parts, aircraft engine parts, simulation training devices, WMD contamination kits, mobile computer systems, troop weapons cases and so on. For over 50 years Thermodyne has provided the only case tough enough to be included as essential in many military programs.


Easy, From Program Start To Finish

Rely on Thermodyne's expertise to breeze through product development. Our Engineers & Product Designers can cut through the clutter to provide a simple and reliable solution that will hold-up to the rigors of extreme abuse. Count on us to help engineer, design and manufacture a transit solution that gives you everything you need without the headaches of having to hand hold your supplier. And because our Engineers work with 50 years of real world experience, our designs incorporate

the forethought to head-off future problems before your units even reach the manufacturing stage.

Defense Contractors Rely on Thermodyne
Thermodyne works with all sizes of defense contractors, manufacturing reliable shipping and transit solutions for any environment and use. Contractors like Raytheon, Lockheed Martin , Halliburton, L3 Communications, GM Defense, FLIR Systems, General Dynamics, Cubic, Motorola, Sikorsky, Unisys, Boeing, Pratt Whitney, Bell Helicopter, BAE Systems, Honeywell and Northrop Grumman are just a few of the names who rely on Thermodyne cases time and time again. Thermdoyne has proven to be a reliable partner for jobs that need to be done right the first time. Give us a call and find out what we can do for you.

We Wrote The Book on MIL-SPEC

In partnership with the U.S. Government, Thermodyne helped co-develop the test methods and requirements of the modern MIL-STD-810. While other manufacturers simply follow these requirements, Thermodyne actively

participated in their creation. Our Engineers and Project Designers are familiar with every nuance and can offer their expertise on your next project.

Customize EVERYTHING

We realize that sometimes stock COTS won't do the trick. Thanks to our in-house machine shop and fabrication department, we can design and create exactly what you need for any sized production runs—whether it's internal shock-isolated cages, inner lids, electrical panels, waterproof connectors, specially tailored extrusions or modified plastic parts. Our top-notch team of engineers, machinists and fabricators can work their magic for you at minimal expense with little lead time. To top it off, we provide upfront, honest pricing before you place your order. And because every step is controlled in-house, you can take comfort knowing we'll get the job done right. Choose Thermodyne for your next project and leave the hard parts to us.

Call 1-909-923-9945 now to get started!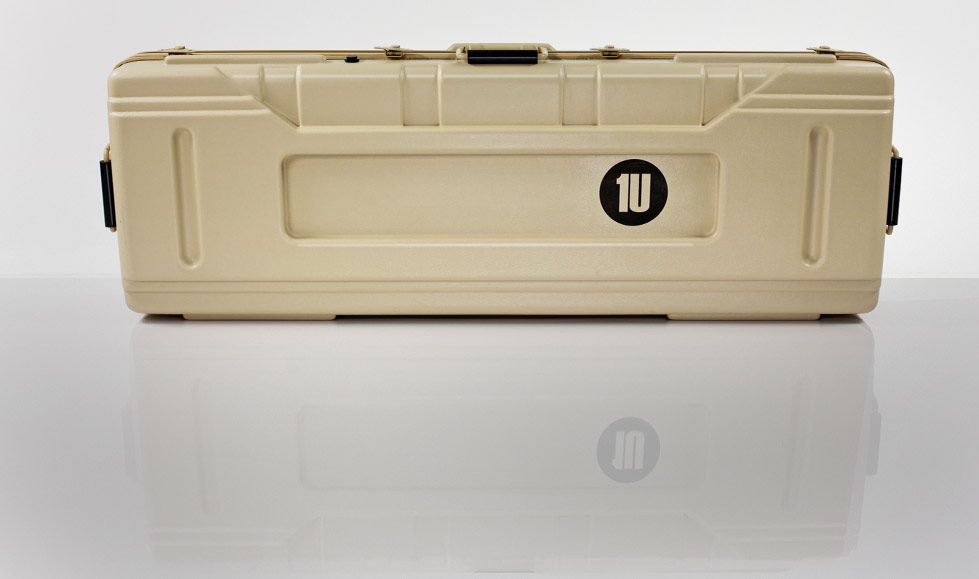 On-Site Military Testing
Thermodyne offers vast experience and understanding of how to best duplicate real world conditions. Our on-site testing capabilities consist of a submersion tank, rain enclosures, advanced pressure testing and comprehensive multi-axis drop-testing platforms. Every new product model is run through an exhausting battery of tests to make sure the build & engineering meet our standards.


Independent Laboratory Testing

For military orders and contracts which require independent testing, Thermodyne offers complete independent 3rd party certification. From basic drop testing to extreme-temperature chamber testing, Thermodyne shipping cases have been tested and certified to meet or exceed every level of MIL-SPEC and beyond. Call us to learn more.

ISO Quality Certified
Thermodyne's entire manufacturing facility is certified to ISO Quality Standards. These standard require constant internal and external audits to ensure proper ISO Quality is met. Every Thermodyne product is 100% Made in USA, and inspected throughout the entire manufacturing process to meet our stringent quality standards.

No Contract Too Big or Too Small

Thermodyne's large manufacturing facility runs both large and small orders efficiently. Allowing deliveries to be made consistently, no matter the quantity. While we can easily provide small orders of one or two custom cases, without having them get lost in between larger orders… We also handle huge contracts that normally would shut down other lesser manufacturers. No matter how complex your project, Thermodyne has the size and capability to handle it on track and on time.

Just a Few of The Common MILSPECs We Build To:

Test Method 500.5 Low Pressure (Altitude)
Test Method 501.5 High Temperature
Test Method 502.5 Low Temperature
Test Method 503.5 Temperature Shock
Test Method 504.1 Contamination by Fluids
Test Method 505.5 Solar Radiation (Sunshine)
Test Method 506.5 Rain
Test Method 507.5 Humidity
Test Method 508.6 Fungus
Test Method 509.5 Salt Fog
Test Method 510.5 Sand and Dust
Test Method 511.5 Explosive Atmosphere
Test Method 512.5 Immersion
Test Method 514.6 Vibration
Test Method 516.6 Shock
Test Method 518.1 Acidic Atmosphere
Test Method 520.3 Temp, Humidity, Vibration, Altitude
Test Method 521.3 Icing/Freezing Rain
Test Method 522.1 Ballistic Shock
Test Method 524 Freeze / Thaw
Test Method 528 Mech Vibrations of Shipboard Equipment


Call 1-909-923-9945 now to get started!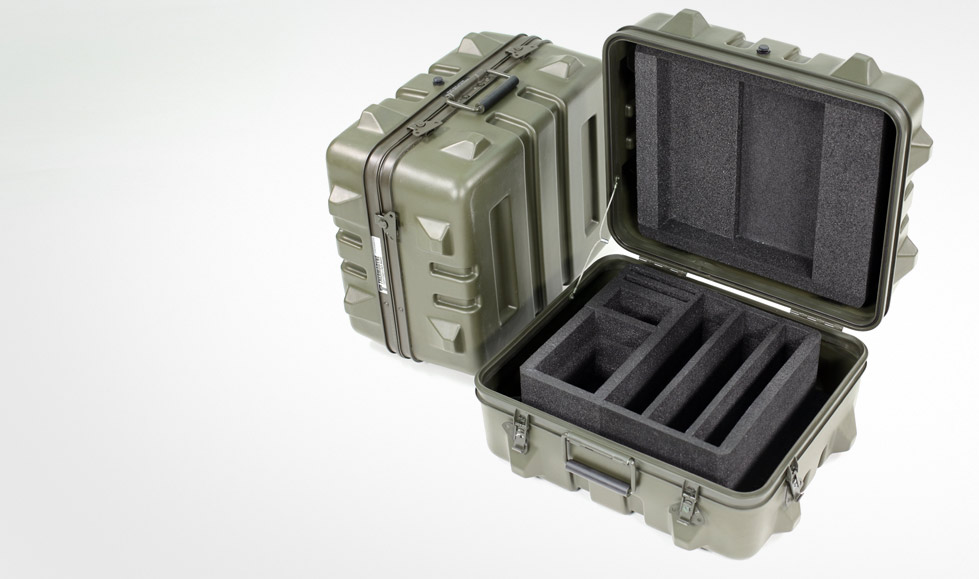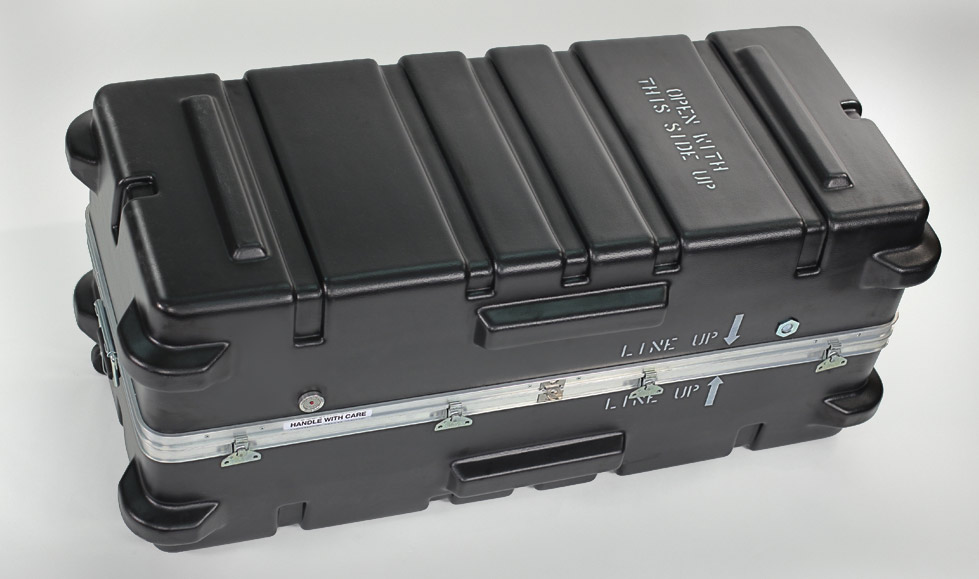 Thermodyne Case Features:
* OVER 500 SIZES
* Rugged Integrated Protective Bumpers
* Standard Military-Grade Hardware
* Standard Gasket Seal
* Standard Field-Replacable Hardware
* Standard Spring-Loaded Latches & Handles
* Standard PowerGrip Valances

Popular Thermodyne Customizations:
* Factory Customized Foam Interiors
* Custom Colors & Logos
* Custom Metalwork & Mount Fabrication
* Custom Lid-Mounted Bags & Inner-Lids
* Custom Manufacturing to Specific Weight Limits

* Custom Labels & Stenciling
* Custom OEM Packaging & Blind Shipping

Compliance:
* MIL-SPEC Materials (Standard)
* ROHS Compliant Materials (Standard)
* MIL-SPEC 810G Environmental Sealing (Available)
* ATA Airline & TSA Compliant
* UPS & Fed Ex Compliant & Shippable

Call Now to find out more! 909-923-9945

You may also like...